In 2015, the Instabase evolved into a Cloud-based, search-centric venue for lighting product photometric files. Imagine the ability to quickly search for luminaires that meet specific performance criteria across a growing collection of the lighting industry's most prominent manufacturers.
For example: you need an outdoor LED site lighting luminaire. It should be between 75 and 150 watts, IES Type III, Medium with BUG Rating of B1, U1, G2 or better. With just a few clicks in the Instabase you can select the manufacturers to search, enter the search criteria and obtain results. Then browse, select and download the IES files you require. This could potentially save you hours of crawling manufacturers' websites, AND downloading IES files from various product pages. This is serious time saved using the new Instabase in the Cloud!
Instabase Short Video (2 minutes)

Instabase Overview Video (11 minutes)

End users of lighting software have never before had access to such a wide variety of product data in one location. The new Instabase provides unprecedented search and query capability across any user selected cross-section of participating manufacturers. Simply load the manufacturers you want to search by checking a few boxes (selection page shown below). The system is designed to allow users to rapidly change the selected manufacturers to keep the searches quick and concise.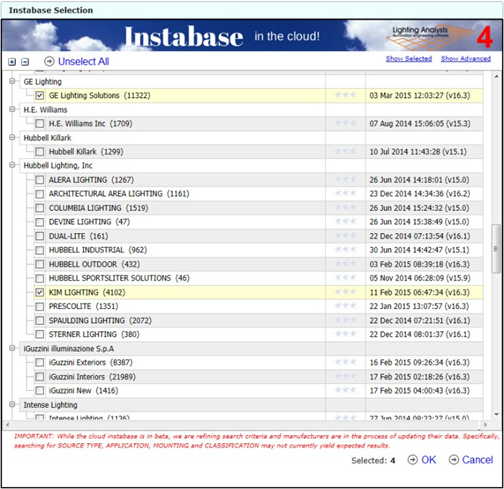 Users can search by specifics such as source type and wattage and then add calculated metrics such as luminaire lumens, IES classifications, BUG Rating and more. Some manufacturers are making their databases even more search-friendly by using custom search keywords to add the ability to search for products by Application, Mounting, Classification, Certification, Color Temperature, CRI and even SP Ratio. The end result is the unequaled ability to locate products and their associated photometric files that match your needs exactly.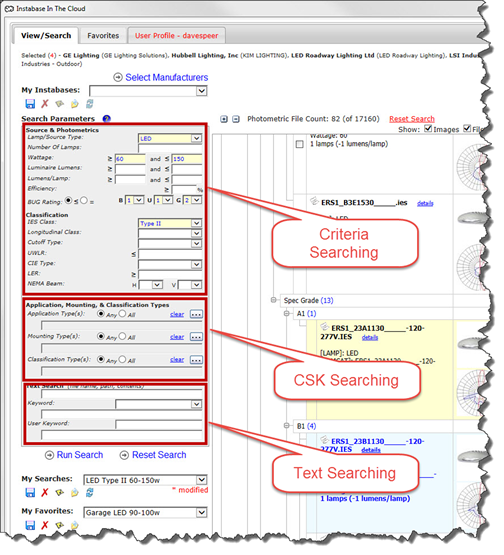 An example of an IES file with Custom Search Keywords is shown below. Manufacturers can use our free software utility "IKE" (Instabase Keyword Editor) to easily seed their files with CSK's.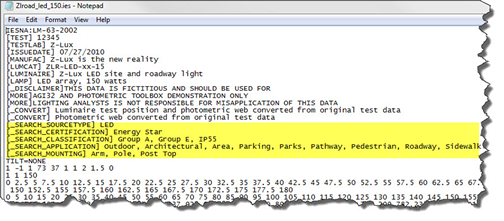 Because Instabase is a 100% Cloud-based collection of product data that is now easily updated by the manufacturers on a 24/7/365 basis, end users of Lighting Analysts software are always searching the manufacturer's most current product offering. Cloud-basing also means only the immediate photometric files of interest are downloaded to the local drive. This prevents large inventories of photometric data sitting on end users' computers where they may become unknowingly obsolete.
While using randomly accessed photometry from manufacturers' own websites may occasionally be convenient, the use of the Instabase System promises a much richer, more powerful and productive experience.