Company - Press Releases - Awards
March 15, 2004 - Lighting Analysts is pleased to announce that AGi32 has won another ADEX award, for excellence in the Lighting category.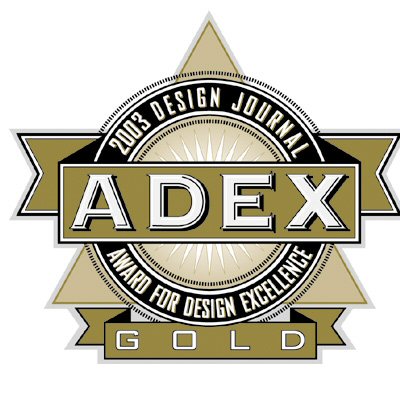 Sponsored by Design Journal magazine, ADEX stands for "Award for Design Excellence" and recognizes superior design of products marketed to the architectural and design trade.
AGi32 is lighting analysis software for electric lighting and daylighting capable of producing sophisticated renderings and numeric output for lighting analysis of any interior or exterior environment. "We are very honored to win this coveted design excellence award for AGi32" said David Speer, Lighting Analysts Director of Sales and Marketing. "As daylighting analysis and other lighting quality assessments become more important to lighting professionals, lighting software will need to evolve and develop to fulfill these requirements. AGi32 assists lighting professionals to evaluate their lighting designs with fast, high quality renderings and numeric analysis options including Daylight Factor, Unified Glare Rating and Tunnel Luminance calculations. This is a prestigious award for AGi32 as the ADEX design award has established itself as one of the most admired prizes for Architectural products."
An anonymous panel of professionals representing a cross section of the design industry conducts all voting for the ADEX Awards. AGi32 was chosen from 1500 entries as an ADEX Gold award winner in the Lighting category. AGi32 will be featured along with the other winners in Design Journal's ADEX issue in April 2004.
AGi32 was also honored as an ADEX 2002 Gold award winner.