Consider the Photometric Toolbox to be a collection of "Tools" that allow you to learn a great deal about the luminaire prior to actually using it in an application setting. Additionally, there are utilities that can manipulate the photometric data in a number of useful ways for both designer and manufacturer alike.
The Photometric Toolbox toolset includes: Open (IES,LDT,CIB formats), InstaBase, New (create a new photometric file), Edit, Save (as IES,LDT or CIB format), View (a very helpful 3D view), Indoor, Flood and Roadway reporting tools, Convert (change test position, convert type B or C), Template (iso-illuminance plot) and Compare (compare three files based on user defined criteria).
Opening files is not normally considered much of a feature for a software program. However, Photometric Toolbox is unique. When opening a file in IES,LDT or CIB formats, Photometric Toolbox performs a rigorous set of integrity checks to insure the file contains the proper data to conform to IES standard LM-63-1995 or newer. Files with data integrity issues can often be repaired and Photometric Toolbox is able to assist with many common problems automatically. Occasionally, photometric files may contain fatal errors. In this case Photometric Toolbox will generally try and diagnose and report the problem.

For power users, Photometric Toolbox contains a Manual Repair option which shows you the photometric file and corresponding errors, allowing you to fix the file yourself. It's much more intuitive than using your computer's "Notepad".
Once a file is opened, it is displayed in the list on the left side of the screen, ready for additional analysis using other "tools". Click on any file to quickly see some identifying information: lamp lumens, wattage, luminous dimensions, photometric type in the lower left corner of the screen.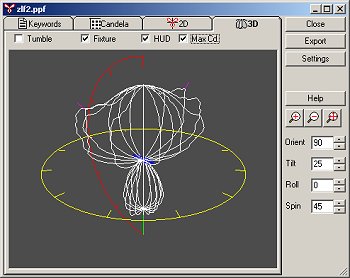 The View Tool allows you to view the luminaire's photometric web in 2D and 3D environments. While 2D polar plots have become the norm for understanding a luminaire's distribution, the 3D View capability allows you to rotate the photometric web such that you can see every angle at once and rotate it to any direction required.
The 3D View functionality also lets you apply the luminaire's luminous dimensions and maximum candela values providing important information on how the luminaire was tested and how to apply it in lighting application tools.
The Instabase Tool provides a graphical database of photometric data from leading manufacturers. Each manufacturer has taken the initiative to prepare their data in a browsable form that shoul dmake it easy to understand and select thier products. All of the manufacturer databases are stored on Lighting Analysts Instabase web-serverwhere the manufacturer can update them at will. For Photometric Toolbox users, this means you can access the latest product data with just a few clicks. It is downloaded and automatically installed for your use.
For a more detailed discussion of the Instabase and a list of participating manufacturers which changes regularly, please visit our Photometrics page.