AGi32 is a simple yet powerful model builder capable of constructing many architectural environments: Vaults, domes, curves, slopes and extrusions are easily created allowing you to accurately model the architectural elements you encounter everyday. AGi32 also supports import of 3D DWG/DXF allowing models created in other software to be utilized or combined with content created in AGi32.

Creating Geometry Within AGi32
When modeling surfaces in AGi32, you are provided with two modeling primitives: Rooms contain interior surfaces that are reflective on the inside surface only (one-sided) by default. This allows you to see into a room from an exterior viewpoint in render mode. Objects provide a few more flexible modeling shapes and may be used in interiors or exteriors. They may be opaque or transmissive and are reflective on both inside and out (double-sided) by default. You cannot see through and Object from either side. Most objects are closed on all sides but a few types (such as cones and spheres) may be left open in some aspects.
Room shapes in AGi32 range from very simple geometry - rectangular rooms with flat ceilings - to complex spaces with unusual ceiling configurations, including domes, vaults, pyramids and other irregular ceilings. Rooms are intended to be used for interior lighting applications and may be located with the base elevation at any level.

AGi32's room commands provide shortcut tools for modeling many common room geometries. For example, rooms with rectangular footprints can be specified with flat, gable, hip, pyramid or barrel vault ceilings. The ceiling specifications (i.e., gable height) are entered as part of the room properties and the ceiling is automatically configured when the room footprint is built.

AGi32 provides the ability to change room surface attributes once the room is created. For example, you may want to remove surfaces from any room shape you might create. By changing the property of selected surfaces in the room to Removed (Invisible), you have the ability to append other shapes to the room. These shapes (rooms, objects, etc.) may in turn have their surfaces removed. Continuing in this fashion, you can create very elaborate models consisting of numerous rooms and/or objects joined together. For example, you may want to create a Polygon room and remove the flat ceiling that was initially created. Once the ceiling is removed, you can use any combination of rooms and objects to create a custom ceiling.
Objects are used to model reflective shapes where the reflectance of the exterior surfaces is of primary importance. The choices of shapes available are varied and range from simple geometries like rectangles, cylinders and spheres to customizable shapes with irregular profiles. Objects can be inserted into any environment, both interior and exterior to block, reflect and transmit light as necessary.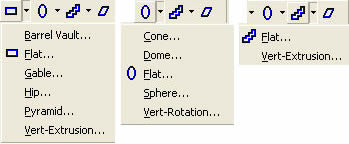 In addition, single or multiple objects may be stored in a user-defined "library" of objects as described below.
| | |
| --- | --- |
| AGi32 is delivered with a number of factory provided library objects that may be used at any time to add detail, scale and realism to any lighting layout. However, the strength of the system is the ability to create your own object libraries relevant to your work and draw from them whenever necessary. Your object libraries can be composed of any combination of internally created or imported combinations of objects. | |